WARRANTY
2013 WARRANTY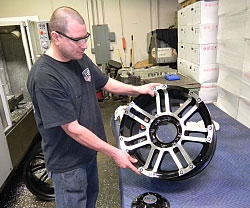 Rev Wheel warrants to the original owner that the products manufactured and distributed by Rev Wheel are free of structural defects in material and workmanship for the lifetime of the product. Rev Wheel firmly stands behind all of it's products so consumers can remain confident in the Rev Wheel name and reputation of exceptional quality.
All of our Chrome plating is guaranteed for one year from the original date of purchase.
Rev Wheel is responsible under this warranty to repair or replace any products that do not meet the high standards required of Rev products. Rev Wheel may require an inspection of any defective products by an authorized Rev Wheel techinician.
Warranty excludes:
1. Wheels damaged in shipping.
2. Wheels that have not been installed with proper lugs.
3. Wheels that have been installed with tires that exceed the recommended size or used with excessive vehicle loads.
4. Products that has been modified or changed by anyone other than Rev Wheel LLC.
5. Wheel damage occurred during installation or rotation by a third party.
6. Wheel damage caused from improper maintenance or improper cleaning agents.
7. Wheels that have not been installed by an authorized installer.
8. Wheels that are damaged due to road hazards [pot holes, etc].
This warranty is valid only when product is returned with pre-approval to an authorized dealer.